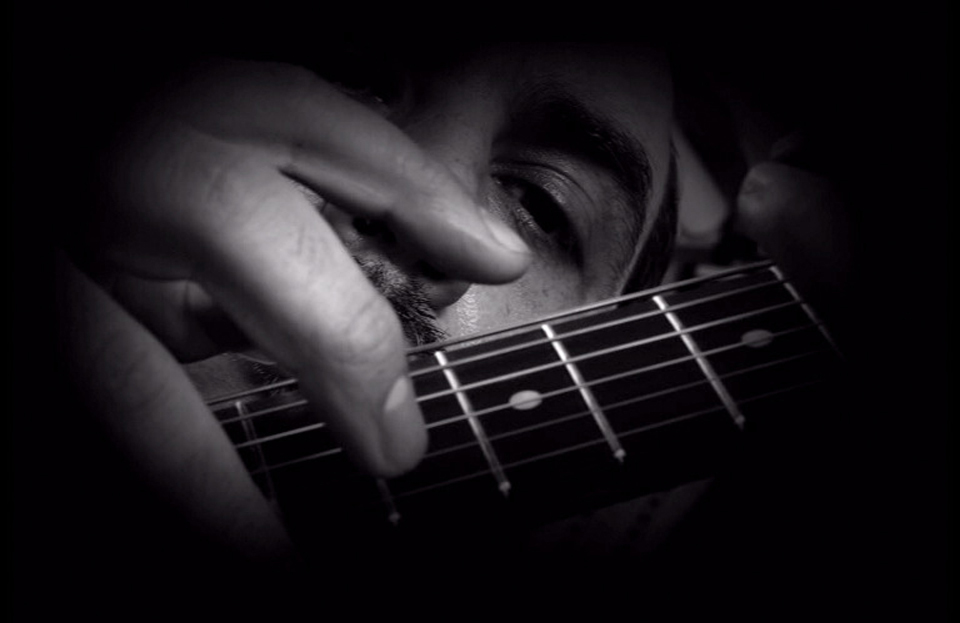 Claudio Bellato is a guitarist and composer. Graduated from C.P.M. in Milan. In the nineties, he take the road of Solo Acoustic Guitar, through a personal research on this instrument. His professional career has numerous collaborations: in the jazz environment, the project Evening songs, culminated in the creation of self-titled cd; a work based on original and reinterpretations of Evans, Monk, Jarret; he also performed in TV shows, performances of visual art and theatrical sound design. In Italy he has opened for artists such as Gian Maria Testa, Bob Brozman; he played in many international festivals: C.B.E., BRUCHSALL Eurofestival, SARZANA ACOUSTIC GUITAR INTERNATIONAL MEETING, MADAME GUITAR (UDINE).
He is a guitar teacher in many music schools, including the Louisiana Jazz School (school affiliated to Italian Jazz Institute), the Progetto Yepp, .etc.
His latest work is the cd ALBANOVA made by the O.A.Q. (Officina Acustica Quartet).
in 2018 he formed the CLAUDIO BELLATO QUARTET, hosting in his concerts the famous multi-instrumentalist and composer Mario Arcari, collaborator of artists such as: Fabrizio De Andrè, Ivano Fossati, Moni Ovadia, Mauro Pagani, Steve Lacy and many others. Making a concert at the jazz festival "JAZZ E ALTRI SUONI" in Genoa, Italy.


Press Interview

CLAUDIO BELLATO & MARIO ARCARI
Musical Projects
ETHNIA PROJECT with virtuoso percussionist Loris Lombardo, the great mandolin player of international repute Carlo Aonzo (music partner of Beppe Gambetta and David Grisman and founder of the International Academy of the Mandolin), featuring the saxophonist Antonio Marangolo (contributor of historic artists like Paolo Conte, Francesco Guccini, Vinicio Capossela)

OFFICINA ACOUSTIC QUARTET (a.k.a. O.A.Q.), a musical project based on original music, with influences ranging from flamenco to Latin jazz through the tarantella. "Music from the South", in the words of Enzo Cioffi and Claudio Bellato, both composer.

The SOLO ACOUSTIC CONCERT, an ambitious solo performance of guitar and voice, where melting between genders combined to virtuosity provide a great show.

The DUO with virtuoso percussionist Loris Lombardo.